Products
Torque Telemetry
Torque telemetry is a wireless system used to measure the torque, or twisting force, of rotating machinery, such as an engine crankshaft. The complete system involves a transmitter with a power supply, which is attached to the shaft, and a receiver, which receives the real time data from the transmitter and downloads this data to a useful format for the user.

The T3 system is easy to use, has a very long battery life, and weighs a mere 8 grams. The transmitter unit shown here is easily mounted to the engine drive shaft with a rubber lined hose clamp. For most applications, this is all that is required.
TECAT has also been working with DynoTech Engineering Services to develop a torque sensing driveshaft for the racing community. The telemetry system has been designed and packaged to fit at the end of a 4.0" x 0.065" wall DynoTech driveshaft, under the U-joint, as seen below. The custom weld yoke makes the needed provisions for simple system installation and removal. The combination takes the latest technology in transducers and joins it with the leader in NASCAR driveshaft production.
The T3 system offers the following advantages:
Compact size and weight
Long battery life
Wide operating temperature range
High speed data acquisition
Contact Darrell Black for price and ordering information.
Download Product Specification Sheet (113k .pdf)
Go to Performance Sensors by TECAT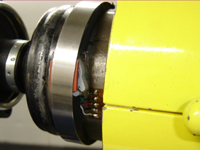 T3 Installed with Hose Clamp on Shaft Diameter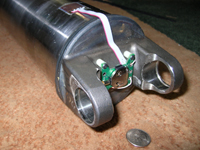 T3 Installed with Screws Under U-Joint